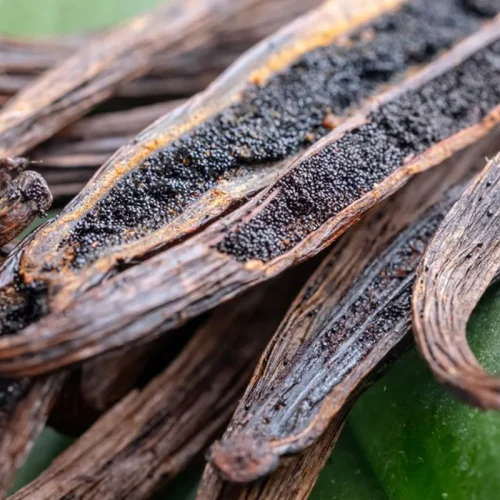 Vanilla is among the most popular flavoring agents in the world. It's favored for its pleasing taste and calming aroma. Vanilla is extracted from the mature pods of certain orchids, commonly the Vanilla planifolia.
The history of vanilla dates back to the 15th century with its origin from Mexico when the Aztecs took up the passion for this exotic plant. Later Spanish brought this to their home country and to Europe and that's how the flavor and fragrance spread across the world.
However, the transplantation was not that easy as the Melipona bee and the Hummingbird were two critical players in Vanilla pollination.
Vanilla is one of the world's most labour intensive crops. The orchid plant flowers once a year over a period of approximately two months with large, fragrant and waxy flowers. They usually open in the early morning and are receptive to pollination for about 6 hours. A single plant can produce any number of flowers; however, a single flower can produce only one bean.
Vanilla cultivation requires great care and attention.
Today, the dairy industry uses the largest percentage of the world's Vanilla in ice creams, yoghurt and other flavoured dairy products. Vanilla remains the most popular flavour of ice cream and is an irreplaceable ingredient in chocolates. The cosmetic industry uses this indispensable ingredient in perfumes, room fresheners, and oils as well as medicines.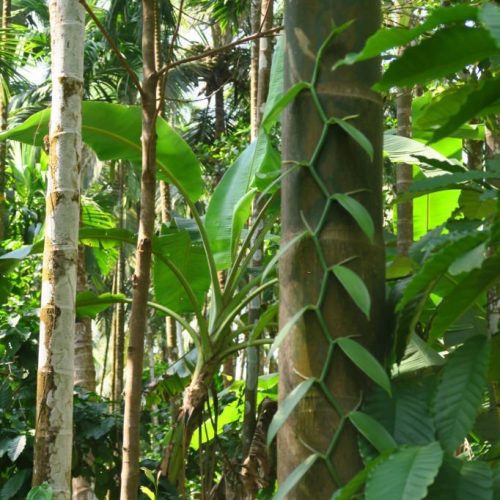 The Quintessential Flavour Of Goodness Vanilla Is The Result Of The Care And Hardwork Of The Farmers.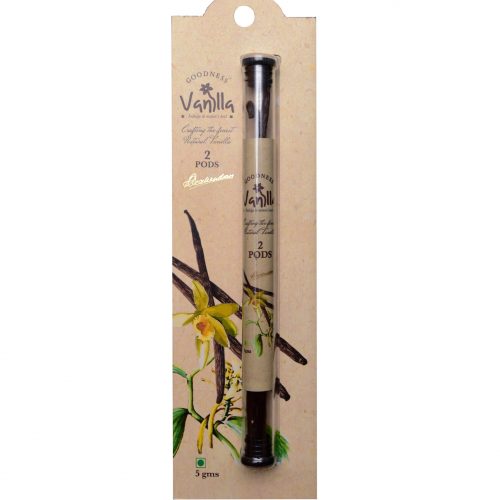 We harvest and bring you gourmet quality, moist, supple and aromatic Vanilla Pods from India true to their natural form.
Goodness Vanilla pods bring you the delectable flavour of Vanilla Planifolia, vowing to bestow distinctive characteristics to a variety of dishes by Chefs and culinary enthusiasts around the world. Goodness Vanilla pods can be used in a range of alluring dishes.
Each vanilla bean pod is hand-selected based on quality and are then processed and cured. The pod's sweet flavor and velvety after tones work perfectly in a variety of cooking and baking applications, including ice-creams, desserts, pastries, and kheers.
With Goodness Vanilla, you can enhance your kitchen shelves with the best vanilla pods.
How To Slit Open Vanilla Seed Pods?
You can cut open a vanilla pod in half, lengthwise, with a small knife. The paste & seeds can be scraped from inside the pod and be used as such in both desserts and savoury dishes.
Alcohol-free Natural Vanilla Extract, double fold, all-natural, no preservatives.
The delightfully sensuous and smooth Goodness Vanilla Extract is a dark, amber elixir made by infusing the concentrate from high quality vanilla pods into an invert sugar carrier. It is easy to use at home and is unrivalled in confectionery industry usage as well. The unique in-house processing method  followed maximizes the flavour, strength, and aroma ensuring a rich, deep and delicate bouquet of unchanged flavour. The end result is a super-premium vanilla essence, unlike any other vanilla extract in the market.
It can be added to milk, other liquid bases, cake mixes, desserts and more to bring out the smooth and delicious flavour of real vanilla. Being the favoured ingredient of bakers and chefs world over, this pure vanilla extract can create magic in your kitchen, with just a few drops.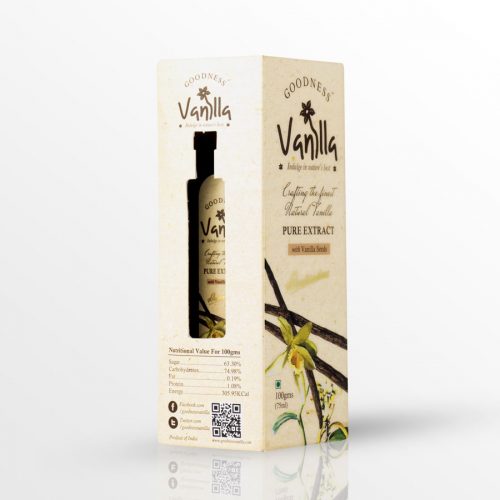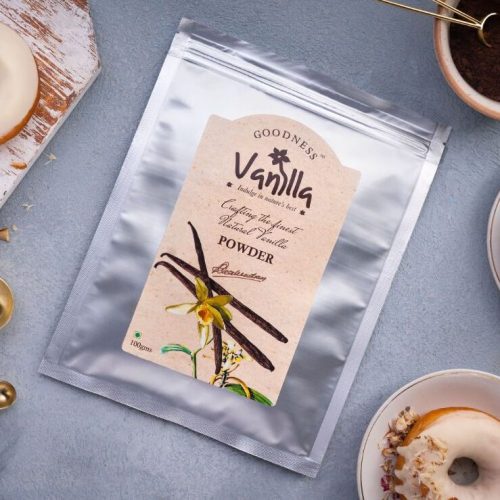 Baking and High-Temperature Cooking
All-natural Vanilla Powder made from high quality vanilla pods.
Best used in high temperature baking to bring out the authentic vanilla flavour, Goodness Vanilla Powder can do wonders to cookies, cakes and bakes. Available in pouches, the free-flowing powder can be used in multifarious industry applications.
This pure vanilla powder is ideal for dry mixes such as flour for cakes or cookies. Enhance the flavor of your dishes with our versatile Vanilla Powder.
Add a punch of delicious sweetness to your culinary creations from all-natural vanilla flower powder.
Pure Vanilla seeds for a natural aspect.
The treasured seeds inside the vanilla pods that can be extracted from cutting through the pods give a natural visual aspect of real vanilla.
The recommended usage is 5 g for 1 kg product. However, it can be decreased or increased as per the chef's idea of presenting the unmatched taste of pure natural vanilla seeds in their dishes.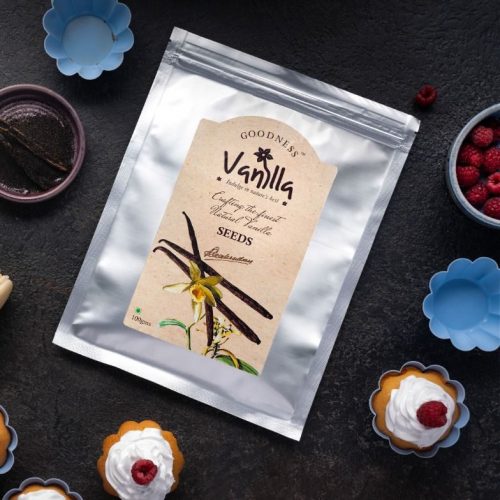 Fill out this form for any  queries and our support team will contact you shortly .
Still, have a question? Don't worry, you can contact our sales representative.